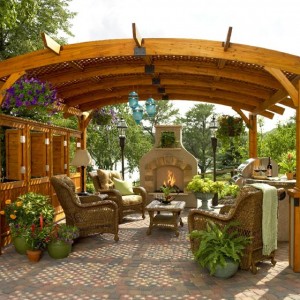 When setting out to build an outdoor structure of any kind it starts with Design and Purpose. Both the form and the ultimate function of the structure should work hand in hand to achieve your outdoor living goals and objectives.
First you need to evaluate the area and space your trying to enhance with a structure. For the sake of this discussion were talking about a pergola.  A pergola can serve the purpose of general shade, a grid for trailing foliage to grow as well as define an area for cooking, entertaining and/or conversation. When designing the pergola simply understand its end use and certainly pull out all the stops to ensure you meet your design criteria.
During design, be sure to scale the structural components, timber, steel and structure appropriately for the space it will be inhabiting as well as mix in any exterior finishes and paint or stain colors to blend and match existing motifs of your home.  Also understand the furniture and equipment that may inhabit the space and size things appropriately.  finally design and spec your hardscape patio ground surfaces i.e. concrete slabs, pavers, flagstone and allow these hardscape finishes to extend past the pergola and integrate to adjacent landscape areas.
So as you can see "How to Build a Pergola the Right Way" begins and ends with designing the structure to meet the purpose and function of the outdoor living space, but it certainly doesn't hurt if you construct the pergola with excellence.